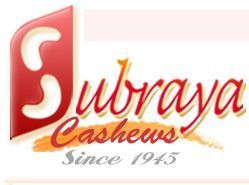 | | |
| --- | --- |
| K. Subraya Anantha Kamath & Sons | |
Our Mission

"To give the world Clean Crisp Cashew Nuts."

Since 1945 we at Subraya have committed ourselves to only one thing - 'A Smiling Customer.' We have over the years delivered our promises, envisioned new standards, explored new processes, perfected our systems and tuned to improving ourselves every day. Subraya recognizes its employees who have been the key machinery in the growth. Our customers have a big role in developing Subraya by giving the essential feedback and being committed to us in times good and bad. And the cherry on our cake are the channel partners who have worked with us to develop our customer base and helped us to recognize the needs of customers so that we could bring broad smiles on their faces.

"We give the world Clean Crisp Cashew nuts."